Revolutionary HVF Pump Gets High-Value Modifications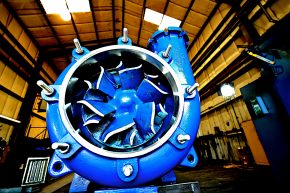 Although the GIW® Minerals High-Volume Froth (HVF) Pump has been on the market for six years, we're excited to announce new updates that make this innovative pump even more beneficial to mining, wastewater, paper recycling, oil sands, and other markets.
The revolutionary design of the HVF Pump helps remove excess air from the slurry process. This is remarkably valuable, as traditional pumps often struggle with air bubbles that can cause pumps — and operations — to come to a grinding halt.
Rising above the status quo
"When mined ore comes into a plant, it is reduced to fine particles by crushing and grinding. The valuable products — like gold and copper — are separated from the slurry using air. The air is injected into the slurry, creating bubbles. The small particles adhere to the bubbles, allowing them to be extracted," explains Richard Inglett, GIW Industries Inc. Product Manager.
The problem in these applications, according to Inglett, is that a regular pump is meant to pump fluids, not air.
"What usually happens with froth pump applications is that the air builds up at the suction eye and causes the pump to quit pumping," he says. "Depending on the size of the plant, it can be very disruptive. You have to shut down pumps, let the system settle, and then restart the pumps. In some plants, this has been accepted as part of the process, so to account for this, duplicate pumping systems have been installed so while one is operating, the other can be shut down in order to reprime."
The HVF Pump helps overcome this costly and time-consuming obstacle by having venting holes in the froth impeller and a de-aeration chamber that removes and redirects the air to the top of the sump.
"We found a way to remove the air," Inglett says. "It seemed so obvious once we designed it, but it was something completely new for slurry pumps."
Updates for every application
This product has been an excellent addition to our line of slurry pumps. However, Inglett and his team realized that the design could be improved upon even further.
While froth typically isn't abrasive, some applications float silica or separate other aggressive, ultrafine materials that result in more wear. GIW engineers decided to upgrade the materials and design to make the pump more marketable and useful in both regular situations and these higher-wear applications.
The HVF pump is now designed with a urethane suction liner and insert for the de-aeration chamber, and for applications that rely on elevated temperatures, it can also take a high-chrome metal suction liner or insert. The new HVF Pump parts are more compact to minimize interference, and they feature standard-sized, threaded connections that simplify installation. Additionally, the high-chrome grade of the impeller has been upgraded across the entire line of pumps, which can triple wear life.
Available now
The newly upgraded HVF Pump is readily available for purchase from GIW — and its list of applications is still growing!
The HVF Pump has been tested extensively in our advanced hydraulics lab, and it's currently slated to undergo an even more specialized and rigorous testing process that places the new urethane suction liner and insert in the most tenacious, aggressive applications.
As Inglett explains, this specialized froth pump is ready to handle anything.
"If the customer has more aggressive froth services, this pump will cover it," Inglett says. "When it comes to design and materials, GIW strives to put our best foot forward to develop a pump suited for the application."
[cta]To learn more about how GIW products can reduce production expenses for your company, contact us at
1.888.TECHGIW (832-4449)
 or visit
visit our website
.[/cta]