Wrap-Up: GIW Open House and Slurry Training
From the very beginning, GIW Industries, Inc.'s focus has been on helping its customers optimize their pumps and systems. One way in which we foster strong relationships between GIW engineers and pump operators is by hosting on-site trainings throughout the year. We're proud to say that June's event was one of our most successful to date!
Slurry transport training
The Open House and Slurry Training event was held on June 5, 2019 at the Fort McMurray Service Centre. It was a great chance for pump operators to tour the GIW facilities, boost their slurry transport skills, and increase their slurry pumping knowledge.
The event had an excellent turnout across two sessions, held in the morning and afternoon; the format of the event was chosen to include more training sessions and accommodate more attendees. Overall, attendees were enthusiastic about the workshops and demonstrations offered, and they were eager to attend again in the future. Many confirmed that they learned a lot about the transport of slurry in pipelines and that they came away with a deeper understanding of pipeline safety.
The event featured workshops on a range of topics, including:
Stuffing box alignment and packing
Impeller release ring assembly
Suction liner nose-gap adjustments
Cavitation and water hammer
Slurry loop demonstrations
SLYSEL demonstrations
The last two demonstrations were among the most eye-opening, as attendees learned what happens in a train of pumps installed in a series configuration, including the impact of not starting and stopping pumps in the correct sequence.
Getting to know each other
If we are to be successful in meeting our customers' needs, our technicians must learn firsthand what those needs are. With that in mind, the most important aspect of the event was the opportunity for the GIW staff to meet the customers in a casual setting. Our customers were able to get to know the people behind the pump and discuss some of their specific technical questions.
"A huge thank you for the great afternoon at the GIW Open House," one attendee said. "The interactive displays were very educational, the training was beneficial, and the hospitality shown by the GIW staff was exemplary. Thank you for the opportunity to be involved!"
"The slurry pump and piping demonstrations were very interesting, and the technical sessions were also really informative," said another. "Please keep me in the loop if you have another open house session, as I would love to attend!"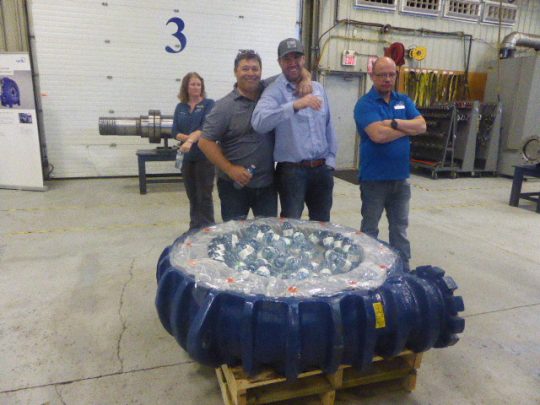 Future events
Those who couldn't make the June event or attendees who still want more are in luck; we have similar events in the pipeline. GIW offers several training courses that teach proven methods to maximize pump performance and system efficiency. In addition, GIW offers on-site training for customers so that they can get helpful tips and hands-on help with maintaining their own equipment. For more information on training opportunities, visit our Slurry Training page.
[cta] We have the experience, capacity, and solutions necessary to meet your needs in every respect. If we can assist you in any way, please contact us at
1.888.TECHGIW (832-4449)
or
visit us online
.[/cta]