We're Leading the Way in Hard-Rock Mining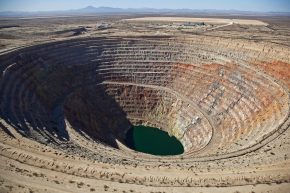 It's been a little over a year now since we at GIW Industries, Inc. teamed up with Outotec experts to supply slurry pumps and cyclones to hard-rock mining customers. Together, we combined our slurry handling know-how and white-iron manufacturing expertise with Outotec professionals' global market footprint and mineral processing knowledge.
Outotec is a world leader in creating and applying technologies that allow mineral and metal processing, water treatment, and energy production company decision-makers to be more competitive, sustainable, and efficient in today's markets. Outotec experts work hand in hand with leaders in metal and mineral processing industries to develop solutions that truly optimize processes and performance. This involves designing cutting-edge systems using their own proprietary technologies and then enhancing those designs with quality third-party equipment, such as GIW slurry pumps.
A foundation for an excellent partnership
Of course, slurry pumps are integral to mining and mineral processing. However, Outotec professionals didn't want to pass along just any pumps to their clients; they wanted to partner with an organization whose employees are just as committed to quality, industry success, and innovation as they are.
That's what makes this an ideal partnership. GIW employees' expertise goes beyond a pump and its parts and extends to the entire slurry system, which is unique for each application. GIW professionals connect with customers to ensure they're getting the right pumps for the right applications — and the right results. Outotec experts respect this commitment and reciprocate the need to provide practical applications for their clients.
The right resources at the right time
Outotec employees have traditionally worked with organization leaders to build processes from the ground up, but today's challenging mining market means that, more often, company decision-makers are looking to optimize the processes they already have, rather than start from scratch.
The combined expertise of Outotec and GIW engineers is especially valuable in this market. Together, they can fine-tune existing processes to ensure top performance.
High expectations for the future
As with any new pairing, it takes time to demonstrate results, but engineers from both companies are working together to assist old and new customers with their mill-pumping requirements. These two great technology brands teaming up allows employees at both companies to deliver extraordinary value to mineral processors around the world.
[cta]We have the experience, capacity, and rock-solid solutions necessary to meet your needs in every respect. If we can assist you in any way, please contact us at 
1.888.TECHGIW (832-4449)
 or
visit us online
.[/cta]