We're Expanding Services to Amusement Parks, but It's Not All Fun and Games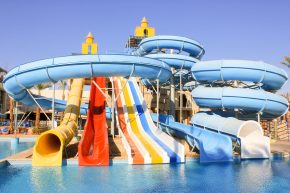 What do trade shows for the amusement park, waterworks, and power generation industries all have in common? KSB original equipment manufacturer (OEM) and subsidiary GIW Industries, Inc.
That's right! GIW and KSB are teaming up in new ways, and the International Association of Amusement Parks and Attractions, Florida Section of the American Water Works Association, and Power Generation Week tradeshows are just the beginning.
We're expanding GIW service offerings to include products outside GIW that KSB professionals manufacture. As an OEM, KSB experts can offer services that others try to provide but can only copy. We know our pumps because we design, manufacture, and build them. Who better to service KSB pumps than KSB subsidiary company employees?
At our facilities, GIW professionals provide turnkey repair, installation, and monitoring for all rotating equipment, including pumps, gearboxes, bearing assemblies, and associated components. Pump, valve, and rotating equipment services are the basis of our flexible service concepts for products from KSB experts and other manufacturers.
Our expansion into centers where we can service these amusement products and parts is an exciting new opportunity. You may be asking about where pumps are used in the amusement park industry: Think of surf rides and hydraulics. We'll be providing services on-site and at our service centers.
Ten KSB service centers in North America keep our services close at hand for our customers.

Vidor, TX
Deer Park, TX
Port Allen, LA
Mulberry, FL
Thomson, GA
Richmond, VA
Bakersfield, CA
Fort McMurray, Alberta
Edmonton, Alberta
Toronto
In the coming months, we'll make more information available about KSB service capabilities across the board. [cta]To learn more about how GIW experts can service your pumps, valves, and rotating equipment, contact us at
1.888.TECHGIW (832-4449)
 or
visit us online
.[/cta]