Two Upgrades, Limitless Potential
"By changing nothing, nothing changes."
— Tony Robbins
At GIW, we believe in change. We keep a watchful eye on our processes, materials, and pumps, looking for new ways not just to improve offerings for our customers but also to raise expectations and standards for the entire market.
That's why we're so excited to share updates from our Materials R&D group and Plant Operations teams. Both departments are implementing new additions and changes that will continue to make GIW one of the most agile, dependable, and customer-focused pump and part suppliers on the planet.
Materials R&D Group: New Building, New Furnace, Unlimited Potential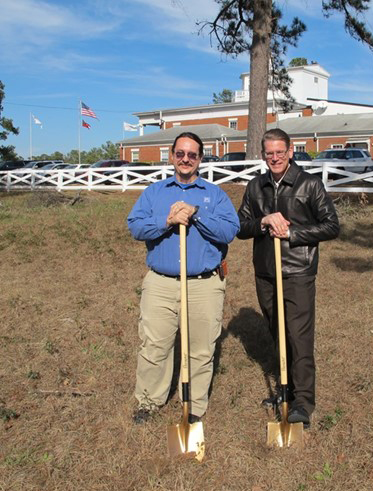 "Research is the foundational block of our company," said Senior Material Engineer and Metallurgy and Materials R&D Team Leader Paul Taylor.
We at GIW couldn't agree more. Our engineers and expert Materials R&D team members are continuously focused on improvement and development. This can include everything from creating better hydraulic pump systems to developing new alloys and materials. Together, these departments ensure our customers get the efficiency, quality, and service life they need from their pumps.
So, when it came time to replace the R&D team's 1970s-era research furnace, we seized the opportunity to expand the entire facility.
"The initial plan was to put a new furnace into the old location, but as we started to do the analysis on what would be needed as far as upgrades to the existing location, we discovered that the financial outlay would be roughly the same for modifying the existing facility or building a new one," Taylor explained.
Improved performance prediction
The project was a big undertaking with a financial outlay reaching nearly half a million dollars. The group began planning in 2009 and received approval in 2015. Today, the new building is complete and the furnace is expected to make its inaugural pour in September of this year.
As Taylor pointed out, the wait was worthwhile: Transitioning from a 45-kilogram furnace to the new, 225-kilogram furnace will significantly improve GIW R&D capabilities, accuracy, and speed to market.
"Materials behave differently in different casting sections, and with production heats reaching up to 24,300 kilograms, it was difficult going from a 45-kilogram test furnace to production," he said. "Having a 225-kilogram furnace lets us cast a much bigger block for evaluation. It improves speed to market and the accuracy of our predictions as far as how it'll perform in the field."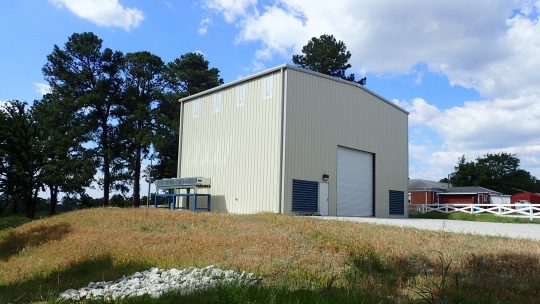 New facility, new opportunities
The new facility is also brimming with opportunities for the Materials R&D team and, ultimately, GIW customers.
"Having our own building, we can look forward to getting involved in 3-D sand printing molds, more composite materials, and a lot more fundamental research. We can also evaluate potential cost-saving projects for manufacturing because the larger capacity will allow us to test closer to real-world scenarios." He added, "It's really going to open up a lot of potential for us in terms of other types of research we can do."
With the expanded capacity and capabilities, GIW experts can count on continuing to keep our company — and our customers' companies — ahead of the competition. And, at the end of the day, that's why R&D continues to be such a priority.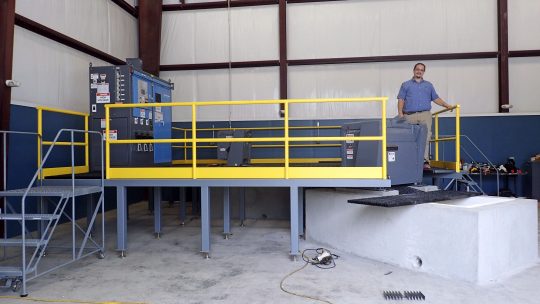 "R&D is so critical and such an advantage to have on-site with the engineering group as it greatly decreases our turnaround time and gives us a great deal of flexibility. None of that is there when your research is off-site or outsourced," Taylor said. "It's wonderful that companies like GIW still invest in R&D."
Plant Operations: Bigger, Better Pumps Call for Bigger, Better Machines
GIW is known for pushing the boundaries of pump innovation — especially where size is concerned. However, these supersized pumps are comprised of supersized parts, and the professionals in Plant Operations recently received an upgrade to help them handle these large pumps more safely and efficiently.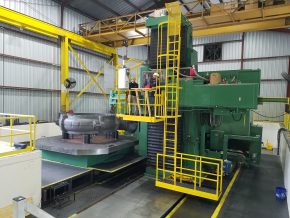 "We needed a larger and more robust machine to handle the capacity of our part line," explained Stacy Woods, GIW Machine Shop Manufacturing and IT Engineer. "Because we can operate at lower cost and a higher quality in-house with our own teams, this machine will allow us to provide customers with larger pumps the best cost and quality."
Safety first
The new machine produces casings for dredge pumps, and it's an upgrade that's been in the works a while. The team began the project at the end of 2014, and the machine is expected to be online August 1, 2017. Woods is making sure the manufacturing team successfully wraps up training and is prepared for the machine to go live.
"Safety is a very large part of our job here," said Woods. "This machine is quite a bit different and larger than the operators are used to, so we want to make sure they're trained."
The sheer size of the machine wasn't just a training hurdle, simply getting it put together and installed was a feat as well.
"The size is astronomical," Woods said. "The entire machine weighs 112,500 kilograms. Some parts were so big we couldn't use our own overhead cranes; we had to hire a 120-ton crane to come in and set certain parts of it. We had to extend the building out about 6 meters to get it to fit, and it's so tall that it wouldn't fit under our 9-meter roof, so we had to dig a pit nearly 4 meters deep to set it in. Even with that, there's still only about a quarter or half meter of clearance!"
Bigger machine, even better customer service
As Woods pointed out, the new machine's incredible mass is invaluable for the size of parts it will be manipulating.
"This machine won't see anything under 6,750 kilograms," he said. "Larger parts will be easier to manage because we're not pushing them to the machine's max limit — a 21,150-kilogram item is ready to go straight in the machine! That gives us a lot more freedom."
Not only is this convenient, but Woods noted that it's also safer and easier to operate. This is due to the machine's new technology and a weight capacity that's much greater than the previous equipment. Now, even with the largest pump parts, operators won't be pushing the machine to capacity and risking safety issues.
With over 100 years of experience as a quality OEM, GIW experts are looking forward to continuing this legacy by continuing to expand and enhance capabilities with upgrades like this. And we're grateful we have veterans like Woods to usher in this new era of creative capacity. With 23 years at GIW under his belt, he's ready for the extended customer service potential this machine offers.
"The machine has the latest technology, it's faster, and it has intricate moves that make the machining process easier, quicker, and safer," he says. "There are multiple attachments for specialized options for customized parts and prototypes, meaning we can guarantee the quality and size of the parts for our customers."
[cta]We have the experience, capacity, and solid solutions necessary to meet your needs in every respect. If we can assist you in any way, please contact us at
1.888.TECHGIW (832-4449)
 or 
visit us online
.[/cta]