Trelleborg and GIW Experts Bring Remarkable Resiliency of Rubber to the Oil Sands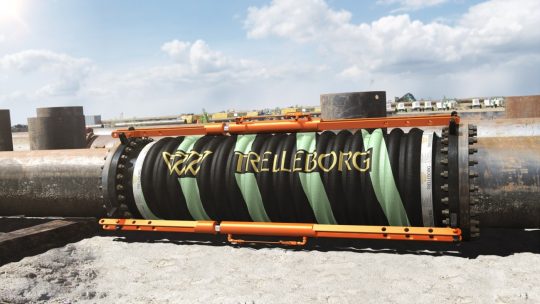 It's no secret: For Oil Sands customers, steel is a necessity. However, when it comes to pump and pipeline parts, this material's drawbacks can also make it a frustrating bottleneck. That's where rubber comes into play: Rubber has the ability to handle high pressures, offer greater ranges of motion, and also provide substantially longer in-service life on slurry lines such as Hydro-Transport and Tailings.
That's why KSB and GIW Industries Inc. entered into a partnership with Trelleborg's engineered products operation, a part of Trelleborg, a world leader in engineered polymer solutions that seal, damp, and protect critical applications in demanding environments.
"We are acting as co-partners to introduce engineered rubber products that complement the GIW pumps currently in the Oil Sands," said GIW Business Development Manager of Engineered Rubber Products Jacob Harris. "Trelleborg's engineered products operation is focused on demanding applications with an extensive international portfolio that consists of high-quality, custom-made, innovative products."
Trelleborg Group was founded in 1905 and today has annual sales of about SEK$32 billion (EUR$3.28 billion, USD$3.69 billion) and operations in about 50 countries. It has a leading position in strategically important international markets, including oil and gas, renewable energy and power generation, as well as construction.
"Trelleborg's engineered products operation and GIW are definitely two premium players in oil sands applications," Jacob said.
It's a great match, and it's also a partnership driven by those in a market eager for more reliable, longer-lasting pumps and pump connection products.
"What we've seen is that the Oil Sands industry is pushing the technology envelope," Jacob explained. "So, with regards to research and development, the industry continually wants to push the reliability of their pumps and systems further every year."
That's exactly what GIW and Trelleborg experts have teamed up to do. Together, those within the two organizations are providing their Oil Sands customers with more flexible, reliable, and cost-effective rubber solutions to replace traditional steel parts. Which parts, exactly? Their offerings include rubber hoses, heavy-duty rubber expansion barrels, rubber elbows, double-carcass expansion joints, tapered rubber spools, rubber vibrating screen decks — and more.
The expansion barrel with a 25,000-hour wear life
One of the most impressive and beneficial GIW and Trelleborg joint developments is the introduction of a patented Heavy Duty Rubber Expansion Barrel.
Although most Oil Sands producers have moved to rubber-lined pipe, many are still using steel expansion barrels in between longer pipe corridors. Not only is this "step" from rubber to steel inefficient but the inflexible steel-sleeved barrels generally only perform for a maximum of 3,000 hours before having to be repaired or realigned. Of course, this can lead to more downtime, higher maintenance costs, and lost production if an unexpected failure occurs on a sleeved steel design barrel.
Alternately, the Trelleborg HD Rubber Expansion Barrel is a patented bi-directional, heavy-duty design that can push wear life to a remarkable 25,000 hours. It can take both axial and lateral deflections and can handle higher pressures while providing much more mobility in longer lengths of pipe corridors than the sleeved steel models. Plus, Trelleborg design engineers will match the ID of the connecting rubber-lined system so there's no interruption to the flow along the pipe corridor.
"Trelleborg's HD barrels are flexible, strong, and reliable, and they have an exact matching inner diameter, and are built to the customer's preference, like pressure rating or connection preference such as ANSI Flanged or Victaulic Coupling," Jacob said.
He also added that the cost savings of the rubber expansion barrel are astronomical.
"Your return on investment is 4-to-1 compared to conventional metal sleeved barrels just because of the overall life cycle of the product and its ability to handle both axial and lateral deflection while performing in extreme temperatures: All pipeline movements are calculated before installation, and the proprietary design allows the HD barrel to be rotated and flipped because of its bi-directional capabilities, providing a concentric wear profile and thus resulting in longer in-service life," he said. "Based on customer feedback and joint collaboration, we have successfully field tested these HD Expansion Barrels for five years in the harshest conditions and they continue to perform and set a new precedent."
What's next
Trelleborg and GIW experts are currently working with Oil Sands Research and Development groups to help increase Vibrating Screen Deck life. Jacob shared that they're working with their Oil Sands customers to develop a rubber-lined vibrating screen deck.
"In the separation process, there's a weak link in the vibrating screen decks, which are 5-by-5-inch steel screens used to separate various rock sizes," he explained. "The customers have approached Trelleborg and GIW to help them combat wear. So, we're working with Oil Sands research and development teams to vulcanize rubber onto the existing steel screen decks to prevent premature damage and stretch the run time hours of the current system in place."
Jacob and his team are producing the second generation of these decks, which will be ready for additional testing in 2018.
Jacob also added that he and his team are working with all the major EPC's currently in play in the Oil Sands to offer a new generation of Suction and Discharge spools to compliment new and/or existing GIW pumps currently installed in the Oil Sands segment. These are very unique units designed to take up excessive nozzle loads and offer single and/or double offset capabilities while handling pressures as high as 750PSI.
These customer-focused solutions are just a sampling of what the GIW and Trelleborg teams are capable of achieving. Together, they're looking forward to changing the expectations about the reliability of pumps, pump parts, and suppliers in the Oil Sands — and in the industry as a whole.
[cta]We have the experience, capacity, and rock-solid solutions necessary to meet your needs in every respect. If we can assist you in any way, please contact us at
1.888.TECHGIW (832-4449)
 or 
visit us online
.[/cta]