Top-Notch Training Is the Secret to Success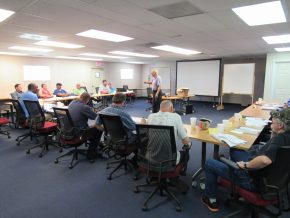 GIW Industries Inc. is known for its cutting-edge pumps. While it takes an immense amount of input and coordination from our talented engineers, salespeople, and upper management team members to get these pumps into production, the actual development falls squarely in the laps of the hardworking shop floor employees. Without their dedication, we wouldn't be where we are today.
That's why we feel strongly about putting as much effort into improving our supervisory strategies as we do our pumps. In the past, lead people on the shop floor were expected to stick closely to plant policies and procedures sent down from above. However, we've seen firsthand the strides company employees can make when they step away from this top-down methodology and focus instead on developing trust, empowerment, and personal responsibility in themselves and their teammates.
Embracing a new vision
Over the course of the past year, GIW employees have dedicated time, money, and energy into making this style of contemporary leadership a reality. Our Comprehensive Supervisor/Lead Person Training program consisted of 10 in-depth courses, in which we aspired to provide 80 shop supervisors with the tools, knowledge, and confidence necessary to support our new vision as stated by Vice President of Operations Thomas Mueller:
"New Vision: Inspire and develop a highly competent and trustworthy team that continually produces the highest-quality products in the safest and most cost-effective way."
Now that the monthly courses have wrapped up, we're excited to see this committed group of lead people guiding and supporting their teams as they work toward our shared vision and goals.
Our hope is that through this training and ongoing support, these 80 individuals will be able to independently solve problems, make decisions, and inspire others where GIW and its customers need most: on the shop floor.
Not only is their perseverance paying off in the form of personal growth but it's also becoming clear that their motivation is contagious. We're looking forward to seeing the benefits in production, performance, and safety they inspire on the shop floor and beyond!