Successes Showcase GIW Versatility in Servicing KSB Pump Lines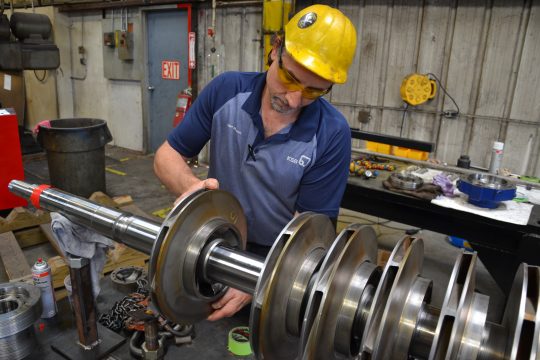 GIW Industries Inc. is renowned for their slurry pump expertise. After GIW became a KSB subsidiary, GIW began branching out and servicing the broader line of KSB pumps, further strengthening their partnership. Several recent successes have shown that GIW service techs are up to the task.
Trelleborg is a leader in engineered polymer solutions based out of Holland. Company leaders contacted GIW because they were experiencing multiple pump failures. Employees at another facility repaired two of their pumps, but they wanted GIW to perform the reinstallation.[br][br]"We went to install [the pumps] and noticed issues with the foundation," Georgia Service Center General Manager Sid Higdon said. "We pointed out the problems and gave them the proper foundation requirements. They were ecstatic and were able to make those changes as well as foundation changes to their other pumps. Since then, the company continues doing business with us and has sent us three additional pumps to repair."
A U.S.-based company specializing in paper towels was referred to GIW because they were experiencing multiple pump failures. GIW service technicians disassembled the pumps and did a full failure analysis to determine the root cause. After successfully repairing the pumps, GIW reinstalled and commissioned the pumps.
A large vehicle manufacturer uses pumps in their vehicle cleaning processes prior to painting. Company leaders reached out to GIW when they were experiencing pump issues.[br][br]"We worked on three of the pumps," Mr. Higdon said, "and when we went to install them, we noticed some problems in the foundation. The company that supplies the pumps contracted us to do a vibration assessment and an inspection of 57 KSB pumps to see if there was anything outside of tolerances that we needed to address. We found some alignment issues."[br][br]According to Mr. Higdon, professionals at another car manufacturer heard about the work GIW had done and contracted GIW to come in and perform vibrational and alignment testing on 73 units at their site.[br][br]"We verified and conducted laser alignment on all the pumps," Mr. Higdon said. "By doing so, we were able to prevent future repeated failures for both of the companies."
Company decision-makers at an international producer of wood-based panels contacted GIW because of repeated hot oil pump failures. GIW service technicians analyzed the pumps and discovered pipe stress was causing the failures.[br][br]"We made recommendations for reducing the pipe stress," Mr. Higdon said. "The customer made the changes, and we went back for a follow-up visit to restart the pumps. All the pumps ran flawlessly, and the rest is history. They've been coming to us for pump repairs ever since."
In addition to these recent projects, Mr. Higdon and crew have been working on KSB-engineered high-pressure feed pumps. The professionals at KSB in Richmond, Virginia weren't able to perform repairs right away but, as GIW and KSB Service Centers are part of a global service network, those at the Richmond KSB branch were able to transfer the work to GIW. GIW experts then stepped in to help with the time-sensitive repairs, helping both KSB and the end customer.
"At the end of the day, we're all one company with different branches that specialize in certain things," Mr. Higdon said. "We've merged our operations and work from a local standpoint to do what's best for the customer."
[cta]We have the experience, capacity, and solutions necessary to meet your needs in every respect. If we can assist you in any way, please contact us at
1.888.TECHGIW (832-4449)
or
visit our Service Center page
.[/cta]