Save $30,000 in Energy Costs: No Purchase Required!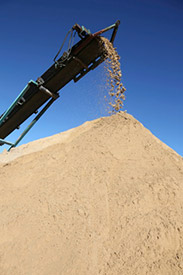 "He can't see the forest for the trees." You never want to think this old adage could apply to you or your business. Although falling victim to this familiar saying may make you feel like you've failed in some way, it happens to everyone. Daily routines keep us from seeing how small, incremental changes can turn into large opportunities for improvements or savings.
This natural tendency to skim over the items you see every day makes it important to actively enlist the help of a fresh pair of eyes and a new perspective. That's where GIW engineers can help you. Our customer service mission encourages us to partner with our clients to make sure that their entire production line is running as efficiently as possible from start to finish, from pump to pump.
GIW Sales Engineer Lonnie Wright understands the difficulties that plant managers face. "People think, 'I already did this,' but things change," Wright says.
A recent trip to Florida to walk the production line of a sand mine demonstrates the power this fresh perspective can have. The plant tour with GIW engineers resulted in energy savings of $30,000 annually for the mine.
Sand mine in need of outside perspective
You may not realize at first how many different industries and businesses rely on sand. Everything from golf courses to concrete to beach restoration requires specific types of sand for their operations. Sand mines stay busy year round to keep up with the demand.
GIW engineers visited a client's sand mine in Florida to evaluate the complete operation, from the floating dredge to the plant. The dredge continually changes location, but the process stays the same: A ladder on the dredge is attached to a GIW LSA pump that transports the sand up and out of the water. Another pump moves the sand across the land and into the plant.
Mine officials and management wanted to know if there was any room for improvement in efficiency.
GIW experts reviewed the whole process while walking through the plant with its managers. It was essential for them to see the entire line, from start to finish, to make sure the pumps were working optimally. Sometimes, adaptations may need to be made, and it requires a holistic view to identify them; finding ways to optimize production is not as simple as making the pump run faster. The relationships between the pump, the particulate size, the distance of transport, and more factors all influence a plant or mine's operations.
The difference customer service can make
For this sand mine in Florida, GIW personnel recommended several upgrades to their pump/system (modifying the discharge pipework to a more direct line, and removing several hundred feet of pipe and friction loss) that shaved thousands off of the energy bill by reducing pump speed and the required horsepower for both the ladder and booster pumps. In the end, the operation review by GIW experts made a $30,000 annual difference in energy costs alone, not to mention higher feed density (increased production to the highest level seen at that location) and improved pump reliability and wear life.
Working with the mine manager, Wright and his colleagues were able to demonstrate a new configuration on paper and prove its feasibility. This kind of expertise is rare, but this high caliber of customer service is included in the purchase of a GIW pump. That's because we want to partner with our clients and help ensure their success.
We help our clients in other ways, too. Training for pump technicians to ensure proper maintenance and optimization are held in our Grovetown, Georgia, location, or we can create on-site classes specifically for your company. GIW wants you to get the most out of your pump and the best production for your company.
[cta]To learn more about how GIW products can reduce production expenses for your company, contact us at 1.888.TECHGIW (832-4449) or visit
www.giwindustries.com
.[/cta]