SAP: Heading for the Finish Line!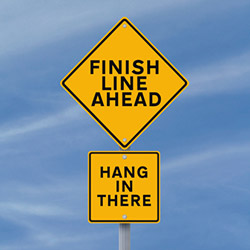 The old saying is, "You never know how much stuff you have until you start packing to move." That's how the SAP transition team at GIW feels as they work on Phase 4 of this year's SAP implementation project. The finish line is in sight, with the go-live date scheduled for Nov. 3! The work that has gone into this technology transformation will ensure smooth interactions and service for our customers — now, and as their needs grow and change.
The conversion to SAP began a year ago, and is currently in the final preparation stage. The team is working to migrate all our transactional data while continuously testing the system that was built in the previous stage.
The team is also preparing training for end users. Critical users will complete training starting in October, then training will continue on an ongoing basis for occasional users and new hires. This stage also involves developing the cutover plan for the new system.
Taking out the complexity, keeping the customization
Like most companies that adopt SAP, GIW is not implementing a standard "out of the box" SAP build. We are working to ensure we integrate seamlessly with KSB systems around the globe, so we are working in the KSB "P14" template.
According to Michael Jacobs, HR Business Partner, "The biggest surprise in the project has been how complex our business processes are and how much customization there is. It's been interesting converting that information to put it into the P14 template used by KSB worldwide."
Deconstructing tribal knowledge and reconstructing it into a new system has been a challenge. Jacobs says, "Many processes have become so routine that it's not clear how complex it is until you have to formalize and document the process."
Getting the details right
Testing is the most critical activity going on right now. The current testing is essential to help the team determine what is working and what isn't. Now is the time to correct any issues before the system goes live in November.
GIW customers should see no disruption to any interaction with the company. The update team is working hard to make that happen, and to reassure customers that the focus is on them. For our customers, these updates will simply streamline all customer operations going forward.
[cta]Visit the GIW Web site or call GIW for more information. To learn more about GIW, contact us at 1.888.TECHGIW (832-4449) or visit
www.giwindustries.com
.[/cta]