Replacing a Competitor's Pump with an MDX-400 for Increased Output
At GIW Industries, Inc., we help customers identify problems with their equipment and provide solutions to meet their needs. As a recent example, a copper mining customer in Arizona came to us because they were having problems with the pump they were operating. GIW experts were able to diagnose the problem and provide a solution with real, measurable results.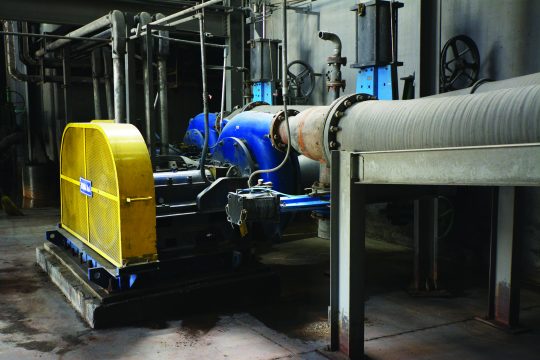 The problem
In this case, the customer was using a competitor's cyclone feed pump. This pump had a short and unreliable part wear life. The customer reported that the pump's rubber liners were wearing out more quickly than expected, causing unexpected shutdowns. In addition, their supplier had a long lead time on spare parts — so downtime was even longer due to unreliable parts supply.
In this mine site, one hour of downtime can mean up to $80,000 worth of lost productivity. In addition, unexpected pump shutdowns can expose employees to potentially dangerous situations with each occurrence. This customer needed to double the wear life of their cyclone feed pump to match their regular maintenance cycles.
The solution: assessment, replacement, improvement
GIW assessed the customer's situation. The customer was using a pump with rubber-lined casings. This material had a very short wear life because the rubber liners could not handle the abrasive slurry. In addition, the pump was incorrectly sized for the application. The pump was too large for their needs and this lowered their efficiencies.
GIW technicians conducted a data analysis of the customer's system. Based on their findings, they decided to perform a pump test by retro-fitting a GIW wet end to the competitor mechanical end. The pump test was very successful, so the customer decided to replace the entire pump with a GIW MDX-400.
GIW's MDX-400 model is a versatile pump, designed to adapt to customers' specific needs. It provides stable operation in a variety of applications and conditions. Replacing the customer's pump with an all-metal MDX-400 model provided immediate improvement.
The results
Installing a GIW pump provided this copper mining customer with a reliable solution. The wear life of the MDX-400 pump parts was much better than estimated, and the parts are delivering consistent wear hours. The new pump's diverter technology has resulted in an increase from 3,000 operating hours between shutdowns to 7,000, which has significantly raised productivity. In addition, since the MDX-400 pump's liners are designed to match the 7,000-hour wear life of the impellers, productivity is further increased. The customer has since requested a change-out of their second cyclone feed pump to a GIW MDX.
Minimal shutdowns for this customer have resulted in maximized output. Using the right sized pump has reduced downtime, minimized repair costs, and increased productivity.
GIW strives to provide our customer with the best slurry pumps, parts supply, and technical support. We are expanding our resources to add technicians in the western U.S. so that we can better serve our Arizona customers.
[cta]We have the experience, capacity, and solutions necessary to meet your needs in every respect. If we can assist you in any way, please contact us at 
1.888.TECHGIW (832-4449)
 or 
visit us online
.[/cta]