Reaching Our Global Potential with Our New Managing Director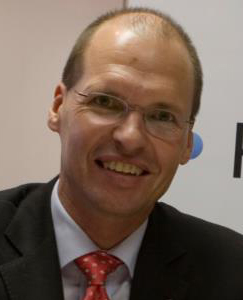 Wolfgang Demmler hasn't had much time to get used to his new home in Grovetown, GA.
Using the first weeks to travel and see customers in North America, Canada, Latin America, and Europe, "Last week, for example, I was visiting the oil sands operations in Canada, and I saw snow for the first time in many years," Demmler says.
Demmler is settling into a new home, a new community, and a new role as President and Managing Director of GIW Industries Inc. He's coming from an 11-year post as Managing Director of KSB South Africa, where he oversaw the entire sub-Saharan market, from sales to manufacturing and service support.
"I think they thought I did a good job there," he says modestly; during his tenure, the South Africa subsidiary almost quadrupled its production turnover.
A native of Germany, Demmler's career is grounded by a classical education and a degree in Integrated Business Engineering — "Sort of a combination of mechanical engineering and an MBA," he says. During his first decade with KSB in Germany, Demmler worked in various roles, from overseeing daily operations to acting as head of corporate development. The experience gave him a solid, deep knowledge of KSB culture and systems.
That knowledge served him well in South Africa as he developed hands-on leadership skills in the manufacturing and service environment. Now, that combined experience provides a solid foundation as he comes to GIW.
"GIW is the third-largest entity in the entire KSB group (after Germany and France)," Demmler says. "The slurry pump group is the only product group that is headquartered outside of central Europe. This makes GIW truly special."
A foundation of excellence for global markets
GIW has additional advantages that make it appealing to Demmler.
"GIW's entire operation is under one roof. The entire product, from design to foundry to machining to delivery to service, is all under direct control of GIW," he explains.
Materials and the foundry itself are core competencies of GIW, he adds.
"The other products in KSB group typically are made from standard materials," Demmler says. "But the materials and foundry process at GIW are unique and truly make the product stand out in the world market."
Those unique qualities are bringing GIW greater opportunities in the global market, says Demmler. He explains that GIW is one of the most important companies in the KSB group and, through strong leadership, has shown tremendous development over the past few years. Now, the biggest opportunity for GIW is to develop further in the global mining market.
"GIW is already a strong player, but there is a lot of potential for us to explore new opportunities," Demmler adds. "Our products require a global approach."
He is looking forward to tackling those opportunities with the GIW team. Demmler admires the tremendous experience of GIW experts in slurry handling and sees increasing opportunities to extend that experience throughout the global KSB network.
"As you know, we've recently started a new partnership with the Outotec group, a global player in the mining industry," he says. "To work together with strong partners and individuals on a global basis — that's what I'm looking forward to most."
Outotec is truly a global partner, operating in Europe, North America, Latin America, Australia, Asia, and Africa. Demmler says that this is a unique partnership for the KSB group and the first to be undertaken on such a global scale.
Ready for all challenges
The current challenge for GIW and our customers, of course, is the current downturn in our direct markets: mining and oil sands.
"There are still maybe one to two years of weak markets ahead," Demmler says. "The company has increased our foundry capacity significantly, so we need to find a balance as we navigate the slower market in the next couple of years."
However, he also notes that the foundry and expansion investments have been made with the long term in mind. KSB and GIW have been around long enough to understand that our business goes in cycles and it's important to use opportunities in slower times to prepare for the increase that will follow.
"Our customers today are in cost-saving mode, but one of the great values that GIW brings to our customers is our ability to work with them to ensure efficiency and long-term value for their operations," Demmler says. "Currently, our customers are forced to reduce costs, so the better our pumps work, the more we can help them on their cost-saving journey."
He adds, "We at KSB group and especially at GIW will continue to be the best partner for our customers. Today and in the years to come, we'll be there to help them run their processes as they want to run them. Our slurry pumps are the motor of their entire process, and we will ensure we are meeting customers' expectations in every way."
Welcome to the GIW family, Mr. Demmler!