Pumps and So Much More: Exceeding Expectations in the Power Industry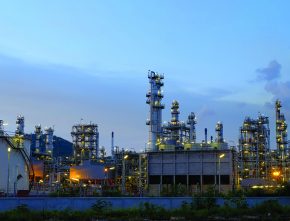 Of course the experts at GIW Industries Inc. know pumps. But did you know our expertise and service offerings extend much further? This is especially true for the power industry, in which GIW not only provides a huge variety of pumping equipment but where we're also offering invaluable turnkey services for entire systems.
Engineers developed the first GIW Flue Gas Desulphurization (FGD) pump line in the early 1990s, and our parent company, KSB, has been providing engineered pumping solutions — including boiler feed pumps — since 1871 and in the U.S. since 1974. Together, KSB and GIW have a very long legacy in the power industry, so it's only natural that we're taking extra steps to share this long-standing expertise with our customers through a full range of service offerings.
"Many pump companies service their own pumps and that's it," explained John Love, GIW Business Development Manager of the Southeast Region. "GIW looks at the entire system — from pumps to gear boxes — to maximize the value for the customer."
More than just pumps
KSB Mammouth:
the giant butterfly valve for applications in flue gas desulphurization, available with nominal diameters up to an incredible 4000 mm.
Our selection of highly corrosion and abrasion resistant metals is complemented by hard rubber coated discs specially developed by KSB AMRI's material scientists.
This added value is particularly beneficial today when power companies are increasingly tasked with producing more power with fewer resources and a cleaner footprint.
GIW experts are drawing on their broad range of technical understanding and global resources to address these needs, maximizing availability, reliability, and heat rate for customers — while also minimizing operational costs and downtime. Doing this properly, as Love pointed out, means looking at more than just the pumps.
"We understand that the pump, although significant, is only one part of the equation — issues can be caused by other things down the line," he said. "We look at the entire system, even other people's pumps, to isolate the causes as early as possible and make it cost-effective for the customer."
So exactly what can GIW service teams accomplish? According to Love, GIW professionals have the expertise to address just about anything in the entire system.
"As a service center, we provide service, repairs, upgrades, and replacements for all types and brands of pumps and gear boxes as well as system analysis, field servicing, and — when needed — removal, repair, and commissioning," he said. "It's turnkey service."
Provider and partner
This system-focused approach is positioning GIW as a partner for customers, rather than just a provider. And turning to a reliable single-source partner like GIW that can address system issues quickly and cost-effectively saves customers money and downtime as it contributes to a cleaner environment. It's a win-win-win!
This unprecedented attentiveness to service, as Love noted, is what will continue to set GIW apart in the power industry.
"It's an exciting time to be in the power market," he said. "Old technologies are being stretched out for cost-effective life extensions while new technologies are being pushed to limits for higher efficiencies and lower operating costs. Both models require the highest quality of value-added service, and GIW is uniquely positioned to lead that movement."
[cta]We have the experience, capacity, and solid solutions necessary to meet your needs in every respect. If we can assist you in any way, please contact us at
1.888.TECHGIW (832-4449)
 or 
visit us online
.[/cta]