Plan Your System with CAD 3D Drawings from GIW
GIW Industries, Inc. has changed a lot since its founding in 1891, and there's no easier way to tell than by looking at the tools our engineers use. They no longer rely on hydraulic slide rulers and lists of formulas to design our slurry pumps. Instead, they use computers and other digital tools to design and test pumps that will stand up to severe duties and long-term wear. The tools our customers use are no different, which is why we go the extra mile to provide 3D CAD (computer aided design) drawings for many of our pump assemblies. Here are some insights into how our customers use CAD models to design their systems.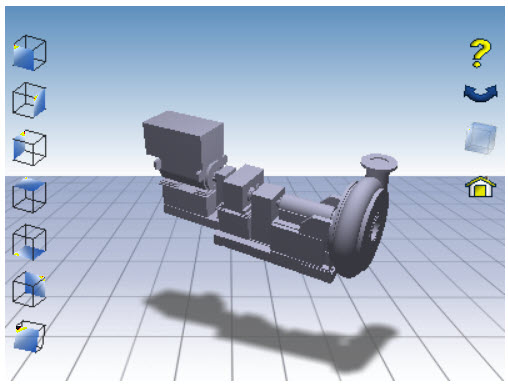 Planning a system
As with many of our initiatives, we released CAD drawings of our pumps to make the job of designing systems easier. Before our 3D models were available on the GIW website and through our partner, ThomasNet, customers relied on 2D drawings of our pumps to plan their systems. While they could create basic plans and even custom 3D models with those drawings, assuring correct fits for all pump parts required more of the customer's time and money.
For some customers, this was a normal, albeit costly, part of doing business. But we understood the value of their time and wanted to help them get their pumping operations up and running as quickly and effectively as possible. In response, we rolled out 3D CAD drawings for our MDX and LCC pumps to give our customers easier access to the technical data they need.
In contrast to the 2D drawings, digital pump models more clearly communicate the dimensional requirements of each pump. This reduces the chances of part interference and plant layout issues. The availability of models for pumps with drive equipment also facilitates a quick and easy way for the customer to estimate footprint, electrical requirements, and more.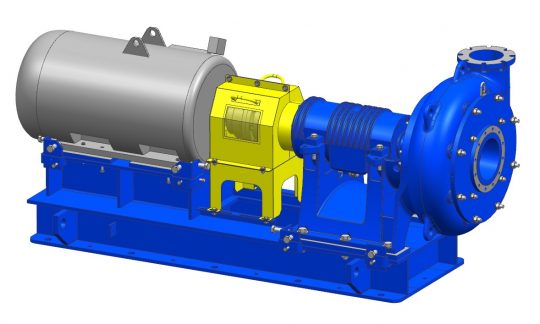 A new perspective
An added benefit of having a 3D model for our pumps is that engineers can visualize and study an assembly without needing to see the real thing. Models can be resized and rotated, which is an invaluable feature when critical parts are in hard-to-reach places, such as on the ground or on top of the pump. This is especially convenient because some of our pumps weigh in at over 200,000 pounds, making transformation after installation no small challenge!
To access CAD files for our pumps, customers just need to select their pump and download the file in a digital format of their choosing. Each entry in the CAD catalog also includes comprehensive technical details for each part of the pump down to the millimeter.
There are currently models for 24 items across four different pump series available on the GIW website and on ThomasNet. Each site contains an easy-to-navigate catalog, allowing customers to quickly home in on exactly what they need. At this time, the range of 3D model packages is limited to pumps in the LCC and MDX families. For models from other product lines, customers should reach out to GIW directly. If your order includes a drive train package be sure to request a 3D model at time of quote. GIW continues to evaluate ways to make system planning easier for our customers.
We are committed to going the extra mile for our customers every step of the way, including the earliest stages of planning. With the help of CAD models and other digital tools, you can plan your pump systems with confidence.
[cta]Need help planning your pumping operation? Check out our CAD models on the
GIW website
and ThomasNet, then
get in touch
with us to make your plan a reality![/cta]