One Thing Hasn't Changed in 125 Years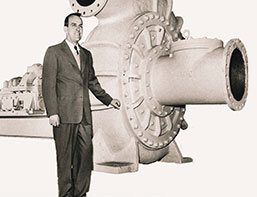 One hundred and twenty-five years is a long time to be in business. But, like most things in life, when you enjoy what you do and the people you're working with, time seems to go by very quickly.
That's certainly the case at GIW Industries Inc. Not only is the GIW brand known as a global leader in the design, manufacture, and application of heavy-duty centrifugal slurry pumps but it's also an organization made up of professionals who truly enjoy serving their customers, meeting new challenges, and pushing the limits of moving slurry.
A history rooted in service
Since its foundation in 1891 as a small foundry and machine shop called Georgia Iron Works, GIW leaders have prioritized customer service. In 1914, when GIW engineers began building the company's first slurry pumps, they strived to help their clients move materials faster, more safely, and more efficiently.
Although our technology has greatly improved, those are the ideals we still maintain more than a century later. From the industry-changing development of Gasite® white irons in the 1940s to being purchased by parent company KSB in 1996, GIW is continually undergoing improvements that allow us to extend the reach of our innovative products and services.
2016: A great year for our customers
This is especially true now more than ever before. Just in the past year, we've expanded our capabilities through a new state-of-the-art foundry and by entering into a sales and service partnership with minerals and metals processing technology leader Outotec.
We celebrated the inaugural pour at the new foundry in May 2016, and the foundry itself is a vital addition that allows us to meet our mining customers' growing demand for Super Pumps. Not only is there enough space in this cutting-edge facility to safely assemble, move, and store some of the largest pumps on the planet but it's also officially the top white-iron foundry in the world.
With this massive $40 million construction project complete, we are already looking for additional ways to maintain GIW's role as the best single-source solution for slurry pump customers around the globe. One of the ways we're doing this is by working with organizations whose employees share the GIW outlook on service, quality, and innovation.
Outotec is one such company. Outotec experts work with metal and mineral processing, water treatment, and energy production industry leaders to optimize their processes and performance. Whether they're building a plant from the ground up or fine-tuning an existing system, Outotec professionals combine their own proprietary technology with the best third-party equipment on the market — and in the case of slurry pumps, they turn to GIW products.
Because each organization's customers stand to benefit from the trusted products and services of the other, GIW and Outotec leaders decided to make their commitment official. With more than 225 years of combined existence and experience, GIW and Outotec experts are looking forward to making the most of this sales and service partnership by offering customers the best, most complete slurry systems on the market.
A never-ending commitment
Now more than ever, we want GIW to remain an industry leader. With every discovery, accomplishment, and passing year, we know that the secret to maintaining this distinction depends solely on the support and knowledge of our customers.
That's why, for the past 125 years and well into the next 125, our customers will always be our first priority. We hope you'll continue to follow our successes as we continue striving to improve our technology, processes, and pumps.