New Dredge Pump Orders Extend GIW Global Reach
GIW has a long and rich history in the world of dredge pumps. Although GIW's pump quality and engineering capabilities are globally renowned, European customers mostly relied on GIW for our ultra-reliable parts and small to medium-sized pumps. However, two massive projects have shifted this vision, propelling GIW from a parts provider to a complete dredge pump supplier in the European and global dredge market.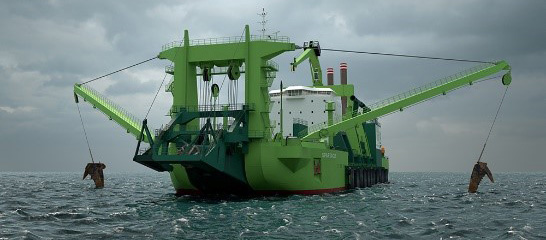 Outfitting the world's largest cutter suction dredger in Belgium
The professionals at Belgium-based DEME Corporation are known for their dredging expertise. However, when they needed to supply the world's largest and most powerful cutter suction dredger (CSD) with three massive, highly capable pumps, they reached out to the pumping experts at GIW.
Like other CSDs, this one is equipped with a rotating cutter head for cutting and fragmenting hard rock and soil. Unlike other dredges, though, this design requires three giant double-wall dredge pumps behind the cutter head to suck up an unprecedented quantity of fragments.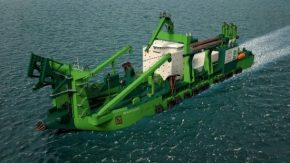 Outfitting this CSD was no easy feat: Known as "Spartacus," this massive self-propelled dredge was designed to be capable of a dredging performance 50% greater than any of DEME's existing large CSDs with the three pumps able to generate pressures of up to 45 bar.
GIW not only met DEME's need but also set a very high standard. After extensive full-scale testing, GIW presented a highly efficient pump design that provides direct fuel savings, free passage of large rocks, and a low Net Positive Suction Head, which allows the dredge to pump more slurry, long distances.
GIW experts are working closely with DEME professionals and a world-class overseas supplier to get the three GIW DWD 1250-2500 pumps to the Spartacus. With 2,540-millimeter impellers weighing 12 tonnes each, this is quite an undertaking — but it's also an exciting opportunity for GIW. This whole-pump order marks the transition from European pump part supplier to fully qualified dredge pump supplier — a designation that will only spur more interest from global customers needing more efficient quality-focused pump designs. In fact, this is the case in China, where GIW engineers are currently working on providing a series of dredge pumps for the Changjiang Waterway Bureau (CWB).
Cutting-edge tech and cost-effectiveness in China
The folks at CWB are in the process of building a 6,000-cubic-meter trailing suction hopper dredge (TSHD).
These self-propelled dredges are equipped with suction pipes attached to drag heads, which act like giant vacuum cleaners, sucking up loose soil, clay, and gravel from the seabed. The TSHD hopper then stores this dredged material, and once it's full, the TSHD then empties it by dumping it through bottom doors or using booster pumps to send the material ashore. It's a well-known process, but those at CWB wanted to build something more efficient and cutting-edge at a competitive price.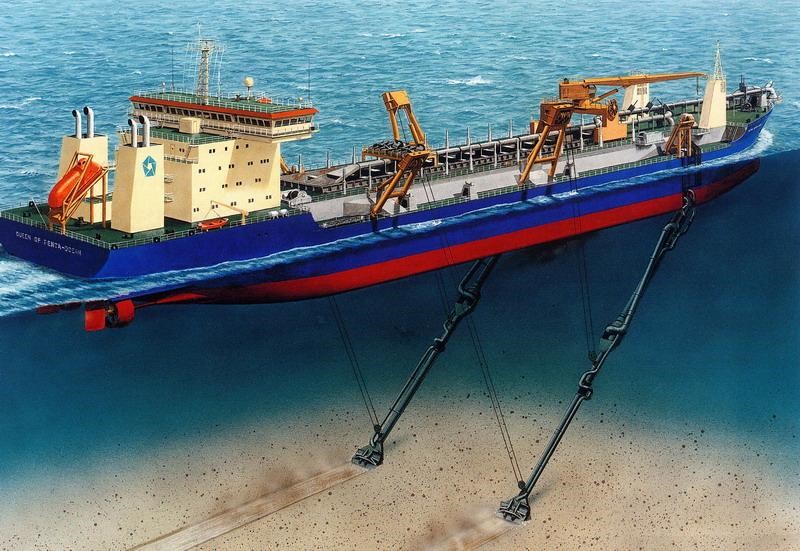 That's where GIW comes in. To bring our technology to the other side of the globe, GIW partnered with Hua Hai, a Hong Kong-based company and previous GIW® Minerals customer with extensive experience in marine engineering systems as well as dredge project manufacturing, construction, and integration. Together, GIW and Hua Hai professionals developed a custom solution that's not just efficient, safe, reliable, and technologically advanced but also cost-competitive, adding value for the customer.
Ultimately, the CWB TSHD will feature two underwater GIW UWD 72 pumps mounted directly onto compact electric motors and auxiliary systems manufactured by Bakker Sliedrecht and Indar. There will also be two sets of double-wall inboard GIW DWD 84 dredge pumps in the pump room, which promise extended wear life thanks to the GIW white iron liner. All these pumps, parts, and systems will create one of the most cutting-edge, efficient, and safe TSHDs on the water when it sets sail.
Why these two projects are so valuable
As the market for new, cutting-edge dredging and pumping systems continues to grow, these projects in Belgium and China are great examples of what can happen when customers turn to GIW as their single-source pumping solution. At GIW, we're looking forward to bringing our efficient hydraulics, wear-resistant materials, and custom-engineered solutions to more customers — and dredge markets — around the world.
[cta]We have the experience, capacity, and solid solutions necessary to meet your needs in every respect. If we can assist you in any way, please contact us at
1.888.TECHGIW (832-4449)
 or 
visit us online
.[/cta]