More Space, More Services — Same Great Team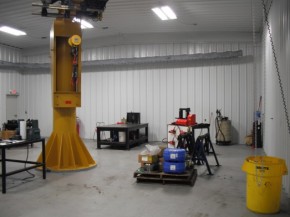 At GIW Industries Inc., we're always looking for ways to grow and improve existing spaces to better serve our customers. One such improvement is at our Thomson Service Center, which is in the beginning stages of a necessary expansion.
"It's been a big year for us in service; our volume is significantly higher than what we saw last year, which is a good thing," Thomson Service Center Manager Dee Bentley says. "It's a growing business and we're looking into expanding into new markets. This will create a need for more storage space, more working space, and more people."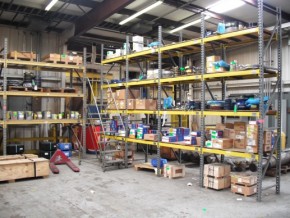 To meet this need, the service center is constructing a 60-by-60-foot storage building. While this may not sound like much space, the additional storage will make a major difference in operations and efficiency. Not only will it allow the service center crew to organize their inventory in one convenient on-site space, but it will also open up some much needed floor area and workspace in the main office.
The goal is to have the addition completed early next year.
"We're in the capital stage right now, getting the money approved to begin this project," Bentley explains. "I'm hoping that we'll be able to start and have concrete in by the end of the year."
New features, even greater service
Construction isn't new to the Thomson Service Center. Last year, the company completed the addition of a clean room.
"Every GIW facility has a clean room; it's an added benefit to show the customers that we're going above and beyond to improve the life of their equipment," Bentley explains.
All of these improvements have this same end goal in mind: providing impeccable, "above and beyond" customer service. It's why the Thomson Service Center is expanding. It's also why the company is in the process of adding a new service truck — complete with a 3.5-ton crane — to their service department. Plus, it's the same reason the group has expanded its service offerings to include pumps and parts not manufactured by GIW.
Long-time customers have been quick to take advantage of these additional service opportunities.
"I think there's a trust factor there — our customers know we're going to do a good job," Bentley adds. "I think another big part of it is being an OEM facility, which has advantages over being a third-party repair center."
The secret to success
Bentley and the Thomson Service Center team are looking forward to breaking ground on the new expansion, as well as continuing to build a solid reputation with their clientele.
"What makes us successful is the relationship we have with the people we do business with," Bentley says. "People know we stand behind what we put in the field, and that goes a long way. It builds a level of trust."
[cta]Want to know more about GIW's expanded service offerings? For a list of the Thomson Service Center's services,
visit our Service Center page
. You can also contact us at 1.888.TECHGIW (832-4449) or visit
giwindustries.com
.[/cta]