Is Your Seal Flush Port in the Correct Position?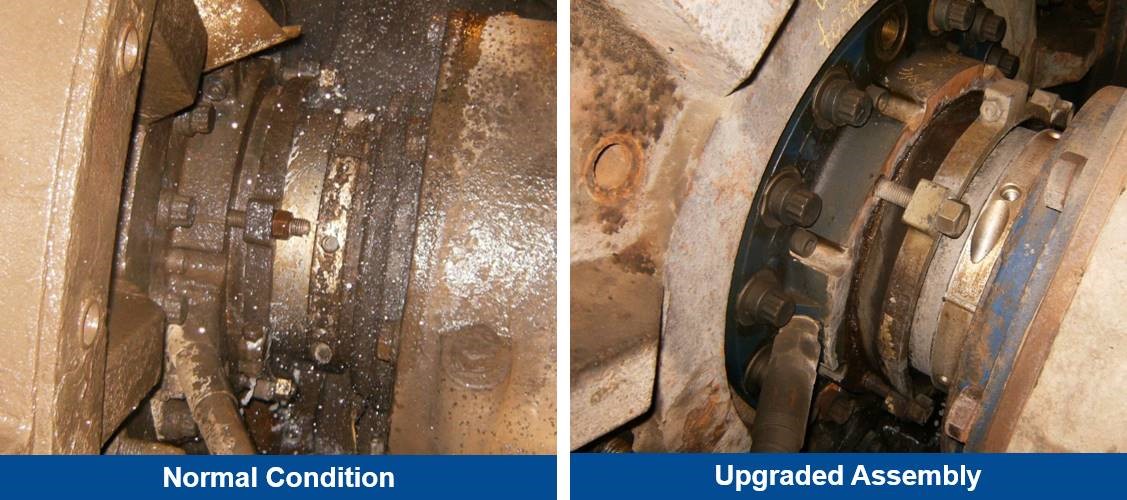 If you need to introduce less water into your shaft seal — or you're using non-potable water in your shaft seal water supply system — you're likely relying on a SpiralTrac™ seal instead of a lantern ring in your stuffing box.
"Most customers don't have potable water, so what they use is processed water with particulates," explained GIW Industries Inc.'s Senior Product Manager Ronnie Willis. "The SpiralTrac is capable of taking those small particles away from the seal water and directs them into the pump, allowing clean water to go back between the shaft sleeve and the rings of packing. It helps save the customer money by reducing the amount of water used and it allows them to use process water, which doesn't require extra filtering, saving the customer money."
What happens when your seal flush port is in the wrong place?
[sidebar width="290″ class="white caption-text-left"] [/sidebar]While these features make the SpiralTrac seal appealing for a variety of applications, users can experience problems if they don't first consider the locations of their seal flush ports.
This is because several styles of stuffing boxes are used on pumps, each with different seal water port locations. If the SpiralTrac water port does not match the stuffing box water port, you could be getting inadequate flow to the packing and shaft sleeve, causing damage and premature failure to these components.
"You want to get proper flow into the SpiralTrac so it can clean solids out of the seal water," Willis said. "If it is closed off, this could lead to damage, meaning you'd have to bring your pumps down sooner than you want to — and generally, you want the shaft seal area to last as long as your impeller."
If the SpiralTrac isn't properly sized for your shaft seal, you may notice your SpiralTrac sagging inside the shaft seal, rubbing on the shaft sleeve, causing premature wear, or simply being inefficient at cleaning particles out of the water.
New design, perfect fit
To overcome this problem, GIW experts worked directly with SpiralTrac manufacturers to develop exclusive designs that match our shaft seals and ensure seal flush ports are in the correct positions. This design includes the addition of O-rings that hold the SpiralTrac inside of our shaft seal assemblies for the perfect fit.
Ultimately, these design adjustments allow end users to rely on the SpiralTrac as intended; however, as Willis pointed out, it's always important to double-check the arrangement of your shaft seal assembly and flush port, regardless of the kind of seal you're using.
"You always need to make sure you have proper flush water flow and pressure going into the shaft seal assembly," he said. "You can have a great setup, but if you don't have the proper flow and pressure so that the solids cannot migrate into the shaft seal area and the clean water flows the packing, then you could have a premature failure."
[cta]We have the experience, capacity, and rock-solid solutions necessary to meet your needs in every respect. If we can assist you in any way, please contact us at
1.888.TECHGIW (832-4449)
or
visit us online
.[/cta]