GIW Innovations: Two New Devices to Make Maintenance Easier
At GIW Industries, Inc., our engineers have earned a reputation for providing excellent customer service and designing reliable, intuitive products. They're also known for innovating in the field of pump maintenance and for continually improving customer experience in the oil sands industry. Here's a look at what a few of our engineers have been working on lately to help our customers reach new heights of production and profitability.
Measuring parts wear
Every pump operator knows that unplanned downtime can cause production losses — sometimes at the scale of millions of dollars — and therefore understands the importance of taking all preventative measures. While most operators stay vigilant for the "big issues," such as sudden blockages and broken parts, it is crucial that they keep an eye on the "little things" as well. These are the things that build up over time, such as part wear.
When it comes to part wear, the goal is to achieve the maximum lifespan from wear components and minimize the risk of unexpected outages. As such, it is critical that operators know the wear life of any given part and ensure that maintenance occurs on a calculated schedule. Predicting a part's wear life, however, is easier said than done; the established means of measurement often extends downtime and isn't always accurate. In response, one of our engineers, Johan de Jager, came up with a solution. He created a device to facilitate measurement and eliminate the guesswork from the process, making measurement easier, quicker, and more accurate.
When designing this device, Mr. de Jager considered the fact that, while all pump parts wear down over time, the suction liner, by design, is subject to high wear. Therefore, the suction liner is often the best indicator for determining wear-based maintenance intervals. This means operators need reliable and valid measurements of the liner's material loss and remaining thickness to determine when the next pump repair or inspection should occur.
The device is used to measure liner thickness while the pump is opened for inspection during planned outages. In an effort to minimize that downtime, Mr. de Jager designed a wear template that would speed up the process without sacrificing accuracy. The template features the same profile as a new liner. Operators simply register the template to a specific fixed reference on the pump and can then consistently measure the gap between the template and the worn liner.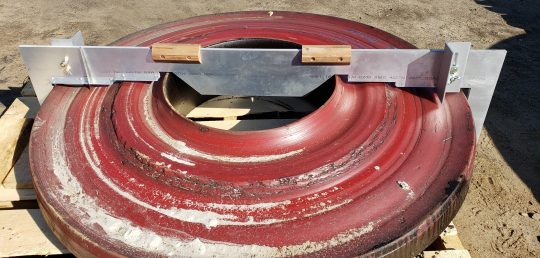 Operators can also track liner material loss according to slurry composition, flow rate, and pressure. Adjustable supports are used to hold the template at a fixed reference height, ensuring consistency of measurements over time. Finally, the wear life predictions become more accurate with every set of data collected and analyzed, thanks to the history of wear rates measurements the device builds.
Organized hardware carts
Another key area of innovation for our engineers is in workflow efficiency. Like part wear, workflow is one of those "small things" that, when not properly managed, can contribute to production losses. Recently, a team of pump maintenance workers needed a solution to their workflow woes. They often spent valuable time tracking down small but critical parts such as gaskets, bolts, and packing rings. To solve this problem, they requested a way to minimize downtime and boost efficiency during maintenance without sacrificing safety.
In response, the GIW oil sands team — in partnership with key customers — developed an intuitive hardware cart for use in oil sands environments. Loosely inspired by the Japanese "5-S" organization method, the cart — known colloquially as the Ven-Bin — is designed to be modular, clean, and easy to maintain. By keeping every tool and part in one place, it optimizes workspace and standardizes how millwrights do their work.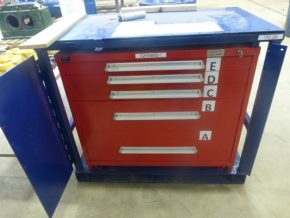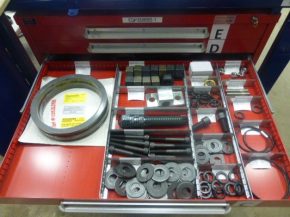 Each pump has its own dedicated hardware cart; that way, the maintenance team can avoid spending hours locating parts and delaying production. The heavy-duty carts also feature lockable cabinets, complete parts lists, and assembly drawings that make keeping inventory a breeze. In order to restock the cart, customers just get in touch with GIW, verify the inventory consumed, and generate a part reorder. The cart has been well-received since its launch. It makes maintenance workers' jobs easier, helps decrease errors, and ensures that teams have the correct types and amounts of parts to tackle any job.
Maximizing customers' time and profit
GIW's suction liner measurement device and Ven-Bin hardware carts are just two examples of the ways our engineers work with our customers to optimize pumping experiences every day. With tools that keep your pump maintained on time and your workspace organized, we can help you maximize your uptime and your profit.
[cta]We have the experience, capacity, and solutions necessary to meet your needs in every respect. If we can assist you in any way, please contact us at
1.888.TECHGIW (832-4449)
or
visit us online
.[/cta]