GIW Goes Global at WODCON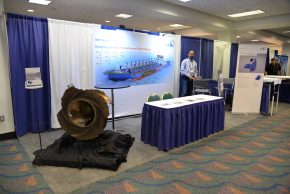 This June, GIW Industries Inc. representatives joined other dredging industry experts at the World Dredging Congress and Exposition (WODCON) in Miami, Florida. Although we've participated in other North American-focused conferences hosted by the Western Dredging Association (WEDA), this marked the first time GIW attended WEDA's sister association's event, connecting dredging professionals from around the globe.
"WODCON gives us an excellent opportunity to look at new technologies from other companies and see different dredge projects from around the world," says GIW's Region Manager for Global Dredge, Europe, Africa, and Asia Pacific, Jonathan Samuel.
It was also a chance to share the GIW difference with a new, global audience that has a renewed focus on fuel efficiency and is facing tighter environmental regulations.
"Everyone in the industry is trying to optimize their operations — the speed at which their ships travel, onboard power consumers, fuel consumption, and efficiency of dredging systems," Samuel explains.
Efficiency to scale
That's where GIW's ultra-efficient pumps come in.
"If a pump is more efficient, that means it consumes less power, which translates to lower fuel costs," Samuel says. "Also, if the pump has better hydraulics, it facilitates greater throughput and increased production rates at a lower cost."
Of course, maximizing efficiency is dependent on various factors such as location, slurry characteristics, and environment, which is why we showcased our ability to create custom pumping solutions for any application.
"We are probably one of the very few companies attending that exclusively makes pumps, which allows us to spend our R&D dollars just on the pumping systems and the special materials that are used to build the pumps," Samuel says. "Dredge owners are always looking at extending the life of the pumps, and our various material and size options allow them to do that."
Huge pumps, global service
For the largest and harshest operations, we were particularly excited to highlight our line of Super Dredge Pumps, which include underwater dredge pumps and double-wall onboard dredge pumps. They're some of the largest in the world with impellers over 105 inches and 2.7 meters in diameter.
Of course, these pumps were far too massive to be displayed at WODCON. However, we brought large posters and a used impeller that ran for 15 years, pumping 4 million tons of oyster shells.
"We are excited to show GIW's capability to manufacture high-quality pumps of an enormous size and to let the dredging industry know that these types of pumps exist," Samuel says. "We are one of the few who can make pumps at this scale."
GIW is also one of the few companies with employees who can connect with customers almost anywhere in the world. Our parent company KSB has a presence across five continents, so our services extend to ports all over the globe.
More than just pumps
More than just manufacturing and customer service, though, we shared our continued commitment to industry-wide education.
In this spirit, GIW Vice President of Engineering and R&D Bob Visintainer conducted a four-hour training session on slurry pumps in dredging. John Furlan, Ph.D., GIW Hydraulic Engineering Manager, presented a paper at WODCON that was developed around the analysis of suction inlet designs and their impact in phosphate dredge and pit pump systems. Attendees were able to use this information to choose the best designs for their operations.
And for those who were interested, we also offered information about our annual Slurry Course, a world-renowned weeklong training session for industry engineers.
"Apart from building equipment, we also teach people about slurry pumping, how slurry behaves inside a pipeline, production rates, and other related things," Samuel says. "We don't actively promote it, but we still get a full house every year because it's so educational and unique!"
We're hopeful that WODCON will help GIW expand its educational legacy and the global reach of our top-notch dredging products. Thank you to all in attendance who stopped by and said hello!
[cta]We have the experience, capacity, and rock-solid solutions necessary to meet your needs in every respect. If we can assist you in any way, please contact us at
1.888.TECHGIW (832-4449)
 or 
visit our website
.[/cta]