Get the Full System Assessment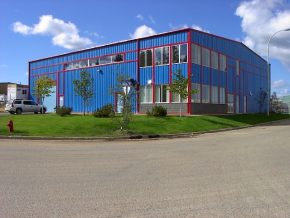 When you think of GIW Industries Inc., slurry pumps likely come to mind. While GIW is certainly globally renowned for innovative pump technologies, a tremendous amount of effort and expertise is put into examining entire slurry systems. After all, a pump is only as efficient as the system it's part of!
"It's extremely important for pumps to match the operating point of the system curve," explained GIW Fort McMurray Service Centre Manager Tony Robins. "This is something that needs to be continuously reviewed as pipelines get longer or shorter and the position of the pump shifts along the system curve. If you can optimize the position of where the pump is operating to its best efficiency point, you can get the best wear out of that pump."
Offering predictability and cost savings
This continuous, whole-system approach isn't new; in fact, it's something GIW has been perfecting for more than 100 years. By providing recommendations for improving existing systems, GIW helps customers develop predictable shutdown schedules and realize tangible cost savings. Recommendations such as changing pump speeds, improving construction materials and retrofitting current pumps with new materials, and suggesting new pumps can equal hefty savings.
"If you consider an oil field mine can produce up to 300,000 barrels of oil a day at C$40 per barrel, a day of lost production is significant," Robins said. "Predictability is critical to the success of any mining operation."
Building better systems and stronger relationships
Predictability is exactly what a full-system assessment by GIW experts provides — not to mention reliability, efficiency, and long-term savings. Not only does this service give customers competitive advantages in their individual markets but it also gives GIW professionals opportunities to get to know their customers' operations and build lasting, mutually beneficial relationships. By helping customers save money and improve their systems today, we know we'll continue to be their supplier of choice in the future.
"We believe in building lasting relationships and credibility with our customers," Robins explained. "Customers are really what makes us successful and sustainable as a company."
Robins points out this emphasis on relationships carries over into GIW's internal structure, too.
"I always preach to my staff that they've got to look after their families and homes so they have the energy to come to work and do a good job," he said. "Good relationships and consideration for others sustains business!"
This "big picture" outlook on relationships and operations is what sets GIW apart. Regardless of what kind of pumps or pumping system you have in place, GIW experts are ready to help you assess, operate, and update your operations to meet your most rigorous needs.
[cta]We have the experience, capacity, and rock-solid solutions necessary to meet your needs in every respect. If we can assist you in any way, please contact us at
1.888.TECHGIW (832-4449)
 or 
visit us online
.[/cta]