Enable Slurry System Solutions by Making Invisible Problems Visible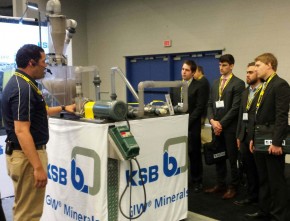 In any slurry transport system, engineers fight a constant battle to reduce wear and increase productivity. Many factors affect those goals, but one of the biggest is the design of the slurry system itself.
Because pipelines are closed, it's often hard to imagine how changes in design lead to changes in performance — for better or for worse. To allow engineers to actually see these changes, GIW Industries, Inc., offers a live demonstration of common slurry system operations challenges with its Slurry Loop model.
Recently, attendees got to see the Slurry Loop in person at the KSB/GIW Industries booth at the 2015 CIM Conference in Montreal, Onatario.
At the KSB/GIW Industries booth, visitors watched in fascination as GIW's Slurry Loop demonstration gave them a close-up view of the slurry process that they could never witness in normal operations. The Slurry Loop, a portable pipe system modeled in clear plastic tubing, provides a way to see how the physics of particle transport works inside a slurry system.
Scott Gillum, Product Manager for GIW Minerals' MDX and FGD slurry pump lines, conducted the demonstrations, which highlight three essential concepts of particle transportation in pipelines:
Small particle transport — Surprisingly, not large particles, but small particles the size of beach sand are the most difficult to pump.
Cyclone operation — In the clear loop, a miniature cyclone demonstrates how particle separation happens inside a slurry system.
Incline pipelines — In a moveable section of the model, visitors see how surging occurs in an inclined section of a pipeline.
The model is built to give users a visual representation of slurry pumping, but also to answer technical challenges that slurry system designers and engineers face. The clear Slurry Loop gives visitors the opportunity to see what happens inside a pipe and learn how bends and velocities affect flows. The demonstration has a high appeal to a wide variety of attendees, including customers, equipment representatives, potential customers, operators, plant managers, professors, consultants, a lot of students — and a few competitors.
Providing an open forum for training and education is a core value of GIW Industries. Throughout its history, the company has offered formal training courses in slurry transport and pump maintenance, and regularly partners with universities and standards organizations to create documentation and train students. The company actively integrates training into all aspects of its customer service.
In addition, the GIW Hydraulic Lab is an internationally known research center that continually brings the industry ground-breaking developments in computerized methods for pump selection and slurry wear analysis, and numerous advancements in slurry pump and pipeline technology.
Because this type of interactive display is very popular at our shows, the Slurry Loop and other educational displays will continue to be a significant part of KSB/GIW outreach at trade shows and conferences.
[cta]KSB has the experience, the capacity, and the best and longest-wearing slurry and process solutions to meet your needs. If we can assist you in any way, please contact us at 1.888.TECHGIW (832-4449) or visit 
our website
.[/cta]