Do You Have Pump Smarts?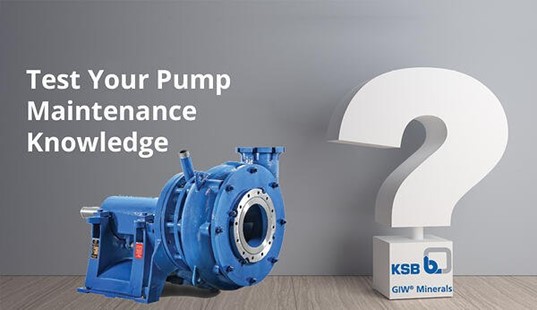 Every pump operator — from engineers with years of experience to those just starting their careers — understands the importance of continued learning. Although many engineers consider themselves slurry pump experts, even the most seasoned professionals occasionally make mistakes. Ongoing professional development, which includes reviewing information and techniques already learned, should be a primary focus of all engineers. Doing so will ensure systems remain efficient and safe.
In the spirit of professional development, we created a short quiz to test your knowledge in pump troubleshooting, and long-term upkeep! Are you up for the challenge?
Test Your Pump Knowledge!
[gravityform id="1″ title="false" description="false"]
Maintenance education
Whether you got a perfect score or discovered some areas you need to brush up on, we hope you found a new appreciation for the value of lifelong learning and professional development — the benefits are truly endless. At GIW, we not only believe in continued professional development, we actively support it by offering two training courses specifically for engineers: Slurry Transport using Centrifugal Pumps; and Maintenance of Centrifugal Slurry Pumps. Both courses are held at our Grovetown, GA facility and include workshops, lectures, hands-on demonstrations, and networking.
Mark your calendar and register for our upcoming maintenance course, May 19-21, 2020. This practical, hands-on course is designed for maintenance and operations personnel. Demonstrations include wet-end assembly, bearing housing assembly, and V-belt installation and adjustment, which are coupled with classroom instruction to help participants prevent problems before they occur.
This course is perfect for front-line supervisors, team leads, reliability engineers, and any personnel directly involved in the maintenance or operation of pump systems. Spots are filling fast, so don't wait to sign up!