Collaboration with Global Partners Enables Deeper Dredging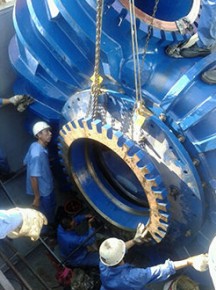 Dredging operations don't often get much time in the spotlight. After all, most of what happens in dredging is invisible — taking place far below the surface of the water. But dredging is a critical operation in harbors and waterways, construction, and mining all over the world.
GIW Industries, Inc. completed the successful design and installation of a unique underwater pump system for Tianjin Dredging Company, Ltd. This equipment package consists of an LHD pump directly mounted onto a 4500 kW submersible electric motor and housed in a carrier arm attached to the drag arm of a trailing suction hopper dredge.
Sound a bit like a Frankenstein's monster? It's more like a superhero. This upgrade allows the dredge to operate efficiently at depths up to 100 meters.
This highly-specialized pump package gives TDC the flexibility to bid on complex dredging projects all over China and even set their sights on global projects. The drag arm is lowered into the water when dredging and can be extended to reach a depth of 100 meters. It is retracted and stowed on board when sailing to the delivery point.
The 58″ impeller and 4500 kW/6000 hp motor significantly decrease the filling time of the 15,000 cubic meter hopper when operating at depths in excess of 35 meters, thereby increasing the overall efficiency of the dredge.
Exceptional partnership, professional project management
After winning the initial contract, GIW made completely new design changes to meet the updated requests of TDC. Only a few dredges in the world have a similar low speed electric motor configuration for their pump, so GIW had to design major components and the entire system from scratch. The dredge ship was already in operation, forcing GIW to work within existing size and weight parameters to retrofit the underwater pump package.
Jonathan Samuel, GIW Region Manager serving customers in Asia and Europe, assembled and worked with a team of international partners to deliver the project, fulfilling TDC's requirements in September 2014. The pump was designed and manufactured by GIW, and several other companies worldwide played a role in completing the final project.
"GIW manufactured the dredge pump and the submersible gland water pumps were sourced from KSB Germany. The electrical system designer/integrator/supplier was a Dutch company, and the carrier arm was also designed by a Dutch expert. The Low Voltage components and the heavy fabrication was sourced from China," says Samuel.
He adds, "Coordinating multiple international suppliers and partners was the biggest challenge of this project, and the successful execution of this project is a testament to the project management and technical capabilities of GIW."
[cta]To learn more about how GIW products can reduce production expenses for your company, contact us at 1.888.TECHGIW (832-4449) or visit
www.giwindustries.com
.[/cta]